Don't Just Brush Your Teeth… Brush Your Teeth Correctly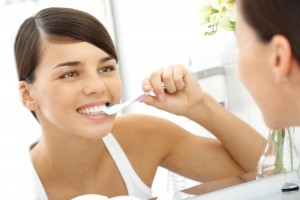 Most people know that good oral hygiene includes brushing your teeth at least twice a day. And for most, those two times are usually in the morning—as you're rushing to work or getting the kids off to school—and at night, when you're fighting to keep your eyes open before falling into bed. Regardless of whether your day is beginning, ending or somewhere in between, proper brushing is worth the time and effort for good oral health.
First off all, did you know that proper brushing requires at least two minutes? Most adults spend a fraction of that time brushing their teeth every morning and night. Try looking at the clock when you start brushing, then brush normally and check the time when you're finished. Chances are you didn't spend enough time to thoroughly clean your teeth. To really do a good job and ensure better oral hygiene, spend two minutes brushing.
What is the Best Technique for Brushing Teeth?
When brushing your teeth, it's important to hold your toothbrush at a 45 degree angle against the gum line and sweep or roll the brush away from your gums. Don't brush side to side, which can scrape your gums. And be sure to use short strokes as you brush away from your gums.
Start out cleaning the outer surface of your upper teeth and then your lower teeth. Continue by brushing the inner surface of upper and lower teeth. Then, brush the chewing surfaces of your teeth, concentrating on your molars. Finally, be sure to brush your tongue, too.
Tools for Proper Brushing
Always choose a soft brush with round-ended bristles. Stiff bristles can hurt your gums. A powered toothbrush can be a good choice, too, especially if you have difficulty brushing because of limited manual dexterity. The type of toothpaste you choose is an individual matter. There are a variety of toothpastes to address a variety of concerns from teeth whitening and cavity prevention to eliminating tartar and reducing teeth sensitivity. Talk with your local dentist about which toothpaste is best for you.
Prepare Little Smiles for Trick-or-Treating with Preventive Dentistry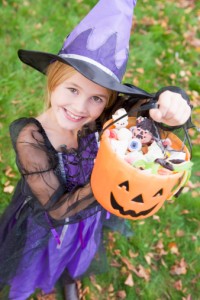 Halloween is undeniably a favorite holiday for millions of children from across America, offering the perfect opportunity to dress up in creative costumes and bring home tons of sweet treats. While we'd never discourage any of the festivities and fun of trick-or-treating, we do want to emphasize the importance of keeping those precious pearly whites healthy this holiday season. With preventive dentistry solutions like dental sealants and fluoride supplements, we can help ensure your child's continued oral health all year round.
Preventing Cavities this Holiday Season
The two most common childhood dental concerns are tooth decay and periodontal disease. Because prevention is always the best medicine when it comes to your child's oral health, routine dental exams and cleanings are integral to a future of healthy smiles. Particularly around the holidays, it is important to consider the effects of sugary treats – including Halloween candies like lollipops, chocolate, and candy corn – on a child's vulnerable teeth. Your child's tooth enamel isn't as resistant to plaque buildup, so twice yearly cleanings are vital.
During your child's dental visit, ask about dental sealants and fluoride supplements. Dental sealants effectively protect teeth from cavities, especially in hard-to-reach places like the first and second molars. Fluoride supplements can actually fortify tooth enamel, remineralizing the surfaces of the teeth to further ward off attacks from cavity-causing bacteria. After your child is done divvying up all of his or her favorite treats from Halloween, consider donating the excess to a Halloween buyback program. This will help keep those cavity-causing temptations out of reach, further protecting your child's smile.
Keep Your Child's Smile Shining Brightly!
Your child's dentist is your ongoing partner in building a strong foundation for oral health in the future. If you have questions about preventive dentistry services, including fluoride and dental sealants, contact your local dentist's office for more information.
Dental Myths Put To Rest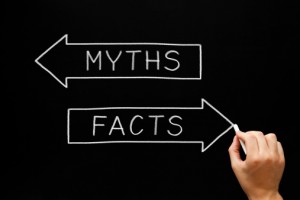 There are many things in life that are shrouded in mystery. Things like urban myths and old wives' tales always keep our curiosity tickled, and you may be dying to get to the truth of an issue for peace of mind. Your smile is no different! There are so many things that people may not know about their smiles; things that they may not know are true or not. Your smile is something you should never play around with, and we would like to clear up a few myths in order to contribute to your peace of mind.
A dental myth that you may have heard is that is teeth whitening weakens the durability of your smile. For those who want to brighten their smiles with teeth whitening, you have nothing to worry about, as this myth is completely false. When you go to have your smile whitened, the gel that the dentist places on your smile only affects the color of your enamel, not the strength. Though it is normal to experience some sensitivity with your smile after having the procedure done, it does not weaken the internal structure of your teeth.
Another dental myth that you may have heard is that you should not brush or floss your teeth if your gums are bleeding. This is actually the exact opposite of what you want to do, and there could be many reasons why your gums could be bleeding. Bleeding gums is usually a sign of plaque and other particles irritating them, and it is important to remove whatever is aggravating your gums as soon as possible. Brushing and flossing your teeth as well as you can is one avenue you can take in order to stop your gums from bleeding.
Dental myths seems to plague the minds of many people, and by putting some of them to rest, we hope that you are able to experience better oral health and better knowledge as to what goes on with your smile.