Holiday Teeth Whitening Advice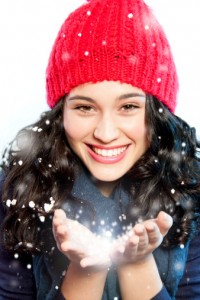 There are many reasons to smile this time of year. We have beautiful decorations, holiday gatherings with family and friends, delicious meals, savory desserts, and the joy of gift giving. But what will your family and friends see when you smile this holiday season? Over time, our teeth can discolor and stain because of foods and beverages like coffee, tea, and sodas. Your teeth can also yellow and stain from tobacco and alcohol use. However, they don't have to stay that way. If you want your family and friends to see the dazzling white smile you had before discoloration and staining set in, make an appointment for professional teeth whitening today. You could brighten your smile this holiday season in just one hour with professional teeth whitening.
What About Teeth Whitening Toothpaste?
You may have already tried switching to a teeth whitening toothpaste. But whitening toothpaste is truly the least effective whitening option. Whitening toothpastes are made with mild abrasives that can only polish away shallow surface stains. They don't contain the bleaching agents needed to truly alter the color of the enamel. It's best to reserve whitening toothpaste to care for your teeth after you have used a more effective teeth whitening treatment.
Does Over-the-Counter Teeth Whitening Really Work?
These products may include whitening kits, whitening gels, whitening strips, or whitening rinses. They are widely available and they make a lot of promises. Yet, it can take several weeks of daily use to get any significant results with these products. In the mean time you'll have to avoid any coffee, tea, soda, or wine until you're finished with the treatment. Additionally, any misstep in their application could result in irritation or infection in your teeth or gums. The time, inconvenience, and risk of misapplication make these products difficult to recommend.
Professional Teeth Whitening for the Holidays
The easiest and most reliable choice is to visit your dentist for professional teeth whitening. Your dentist can offer you a one visit treatment or an easy-to-use take-home option. The dentist uses powerful bleaching agents that can whiten your teeth several shades in just one-hour. But, unlike the over-the-counter treatments, the dentist can make sure that your teeth and gums are not irritated in the process. Moreover, bleaching agents may not be able to remove some forms of discoloration and deep staining. Your dentist will be able to recognize this and offer alternatives like dental bonding or veneers. Don't make the mistake of using the wrong teeth whitening method.  Get the brighter and whiter smile you deserve this holiday season with a professional whitening treatment from your dentist.
Don't Just Brush Your Teeth… Brush Your Teeth Correctly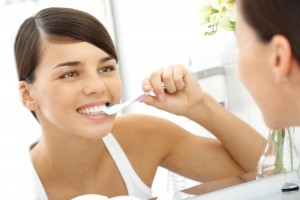 Most people know that good oral hygiene includes brushing your teeth at least twice a day. And for most, those two times are usually in the morning—as you're rushing to work or getting the kids off to school—and at night, when you're fighting to keep your eyes open before falling into bed. Regardless of whether your day is beginning, ending or somewhere in between, proper brushing is worth the time and effort for good oral health.
First off all, did you know that proper brushing requires at least two minutes? Most adults spend a fraction of that time brushing their teeth every morning and night. Try looking at the clock when you start brushing, then brush normally and check the time when you're finished. Chances are you didn't spend enough time to thoroughly clean your teeth. To really do a good job and ensure better oral hygiene, spend two minutes brushing.
What is the Best Technique for Brushing Teeth?
When brushing your teeth, it's important to hold your toothbrush at a 45 degree angle against the gum line and sweep or roll the brush away from your gums. Don't brush side to side, which can scrape your gums. And be sure to use short strokes as you brush away from your gums.
Start out cleaning the outer surface of your upper teeth and then your lower teeth. Continue by brushing the inner surface of upper and lower teeth. Then, brush the chewing surfaces of your teeth, concentrating on your molars. Finally, be sure to brush your tongue, too.
Tools for Proper Brushing
Always choose a soft brush with round-ended bristles. Stiff bristles can hurt your gums. A powered toothbrush can be a good choice, too, especially if you have difficulty brushing because of limited manual dexterity. The type of toothpaste you choose is an individual matter. There are a variety of toothpastes to address a variety of concerns from teeth whitening and cavity prevention to eliminating tartar and reducing teeth sensitivity. Talk with your local dentist about which toothpaste is best for you.
Prepare Little Smiles for Trick-or-Treating with Preventive Dentistry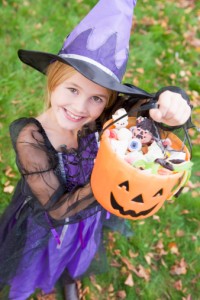 Halloween is undeniably a favorite holiday for millions of children from across America, offering the perfect opportunity to dress up in creative costumes and bring home tons of sweet treats. While we'd never discourage any of the festivities and fun of trick-or-treating, we do want to emphasize the importance of keeping those precious pearly whites healthy this holiday season. With preventive dentistry solutions like dental sealants and fluoride supplements, we can help ensure your child's continued oral health all year round.
Preventing Cavities this Holiday Season
The two most common childhood dental concerns are tooth decay and periodontal disease. Because prevention is always the best medicine when it comes to your child's oral health, routine dental exams and cleanings are integral to a future of healthy smiles. Particularly around the holidays, it is important to consider the effects of sugary treats – including Halloween candies like lollipops, chocolate, and candy corn – on a child's vulnerable teeth. Your child's tooth enamel isn't as resistant to plaque buildup, so twice yearly cleanings are vital.
During your child's dental visit, ask about dental sealants and fluoride supplements. Dental sealants effectively protect teeth from cavities, especially in hard-to-reach places like the first and second molars. Fluoride supplements can actually fortify tooth enamel, remineralizing the surfaces of the teeth to further ward off attacks from cavity-causing bacteria. After your child is done divvying up all of his or her favorite treats from Halloween, consider donating the excess to a Halloween buyback program. This will help keep those cavity-causing temptations out of reach, further protecting your child's smile.
Keep Your Child's Smile Shining Brightly!
Your child's dentist is your ongoing partner in building a strong foundation for oral health in the future. If you have questions about preventive dentistry services, including fluoride and dental sealants, contact your local dentist's office for more information.